Best Collapsible Batons, Expandable, Telescopic, and Tactical
Expandable batons or collapsible batons are easy-to-use self-defense tools.  They are mostly used by law enforcement agencies around the world. This is mostly because you can use a collapsible baton from a distance. Other uses are: blocking attacks, striking, or even jabbing. When you are not using it, you can retract it and put it in your pocket or bag. They are easy to conceal and carry. The fact that you can adjust its length to your preferred length makes it a very effective weapon for self-defense. There are very many collapsible batons on the market today and finding the best collapsible batons can be a daunting task.
Here is a quick list
#1) Asp Expandable Batons and Holders
#2) Monadnock Expandable Batons and Holders
#3) Smith and Wesson Expandable Batons and Holders


A unique, high-quality expandable baton that comes with a non-slip rubber grip. The Smith and Wesson Expandable is a heavy baton that comes with a belt holster and a friction lock. It can easily be deployed with a flick of your wrist. Its durable construction ensures the baton lasts longer.
However, it might prove a little difficult to withdraw this weapon as quickly as you may want. It is quite an affordable collapsible baton but you have to hit it on the ground in order to close it. It starts losing friction after some time and the paint easily flakes. It is not a very ideal collapsible baton for security guards or law enforcement agencies.
Pro
Solid and durable construction

Features a non-slip grip

It is affordable

Easy deployment with a flick of your wrist
#4) Fox Tactical Expandable Baton

As one of the best collapsible batons, the Fox Tactical Expandable Baton is an affordable, easy to use baton that is highly recommended as a home self-defense weapon. For easy transportation and storage, it comes with a holster. Although it is heavier in comparison to other expandable batons, it delivers powerful impacts on the intended target.
It might be difficult to deploy it the first time but it becomes very easy once you get to used to it. It is also very hard to retract it without giving it a hard tap down on a hard surface. The holster provided is not of the very best quality but you can get a new one that allows extended sheathing. All in all, it is a home self-defense weapon and it also gives a great swing.
Pros
Comes with a holster

It is affordable

An ideal home self-defense weapon

Has a great swing
#5) Police Force Batons and Stun Sticks

This is a compact and powerful baton that is easy to carry and utilize. As one of the best collapsible batons on the market, the Police Force Expandable Baton is an ideal baton for self-defense. It is fitted with a friction lock to make sure the baton is always open when you are using it. Storage and transportation are easy as it comes with a belt holder.
However, it is a bit heavy as it is built from low-quality alloy, and retracting it can take some time-several minutes. To retract it, you need to push it firmly against a hard surface.
Pros
It is compact and easy to carry

Fitted with a belt holder for ease of storage

Ideal for self-defense-can easily deter attackers

Features a friction lock that makes sure it stays open until you are done using it
#6) Galls Expandable Baton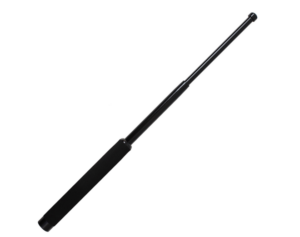 This is one of the best collapsible batons on the market. The Gall Expandable Baton is a high-quality expandable baton that is lightweight and easy to carry. It is built using durable alloy steel that gives it a light feel. It is a very reliable expandable baton that expands easily when given a quick snap. This is a very ideal feature for self-defense as you want to quickly deter an assailant without giving them a chance to react.
A textured grip ensures the expandable baton stays firmly on your hand. You can also enhance the grip by adding accessories like end caps. Its solid construction means it is durable and quite effective. What's more, it is sold at a reasonable price.
Pros
The collapsible baton expands easily when you want to quickly use it.

Features a textured grip that ensures a strong and comfortable grip so it will not slip as you swing

You can add accessories like end caps

Its high-quality construction ensures durability and effectiveness

It is very reliable
Best Expandable Baton Length
Length is an important factor to consider when getting a collapsible baton. A self-defense baton should give you ample distance between you and the attacker while still delivering a powerful impact. Collapsible batons range from 16-26 inches. A 16-inch expandable baton might feel a little short but is okay for home self-defense. A 21-inch collapsible baton is ideal as it is easy to conceal and carry. For law enforcement officers, the 26-inch is recommended as it's long enough but too long for the average civilian. Too long batons are not easy to carry or conceal and can hit your body. The ideal length is one that enables high performance.
Best Baton Holders for Collapsible Batons
The market is filled with the best baton holders for collapsible batons and we are going to go through a few
Miles Tactical ASP Molle Baton Holder Pouch fits Expandable Batons and Flashlights
Features
Made using high-quality 100 Denier Nylon to ensure durability

Fitted with 2 straps in the back that attach to MOLLE attachment points

Can attach to MOLE gear

The pouch area is a 2-inch wide elastic strap design that firmly holds the Baton

Can be worn on a belt
Monadnock 22-26-Inch AutoLock Front Draw Baton Holder with 360 Degree Swivel Clip-On Plain
Features
All holders feature a molded tension spring for baton security

Durable polycarbonate is what is used to make the baton holder

Can fit a 2.25-inch belt width
Flashlight Holder Baton Pouch with Adjustable Paddle
Features
Adjustable Carry Angle

A  Built-in tension device allows stretching

Made of durable material

Open-ended design
Condor Outdoor Baton Pouch
Features
Hook and Loop adjustable opening

For standard issue expandable batons

Designed for a quick switch 
Best Baton Holsters and Belts for Expandable Batons
Boston Leather 

 1.75in. Garrison Leather Belt US Made
Features
A full-grain English bridle leather

The leather is drum dyed leather to prevent peeling and cracking

7 tip holes to accommodate more sizes

A removable  buckle

Rustproof Solid brass staples and snaps
Lixada Tactical Belt Modular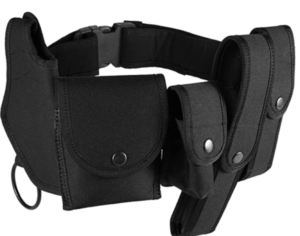 Features
Durable and strong belt

A quick-release secure buckle

An 

adjustable adhesive fastener tape 45.3″ to 53.1″

2.2-inch wide belt
Fairwin Tactical Belt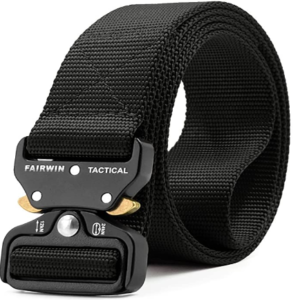 Features
Heavy Duty Metal Buckle

Quick and intuitive release

Durable webbing belt

Comfortable 

1000 D environmental friendly nylon
Best Collapsible Batons FAQs
Are collapsible batons effective?
Yes. They are  effective nonlethal weapons that offer protection and can deter assailants
Can I carry a collapsible baton?
On duty, law enforcement officers are the only ones allowed to carry collapsible batons across states. If you are a civilian, please check on the legality of your state laws. 
What states are collapsible batons legal?
Read the following laws to get a clear understanding
Washington DC (District of Columbia) Expandable Baton Laws

Texas Expandable Baton Laws.

Pennsylvania Expandable Baton Laws.

California Expandable Baton Laws.

New York Expandable Baton Laws.

Massachusetts Expandable Baton Laws.
Conclusion
The best collapsible batons are not only reserved for law enforcement officers. A civilian can get themselves one for self-defense if the state laws allow it. They come in different designs, sizes, and features but we hope this guide helps you get one that suits your needs. 
The best collapsible batons are made from quality material that delivers durability and reliability. What we have reviewed here are some of the best collapsible/expandable batons on the market. Get one that perfectly suits your needs.